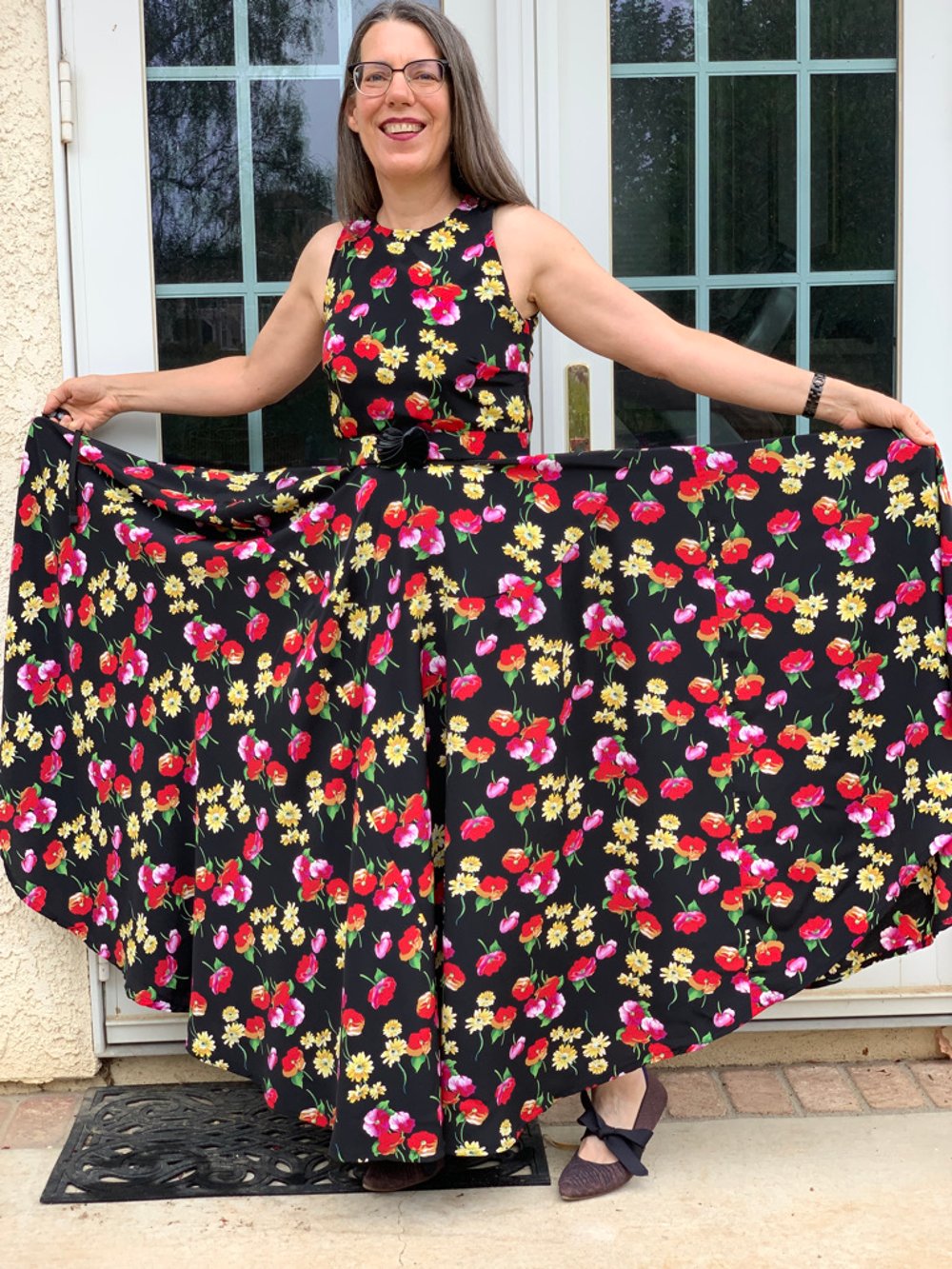 Patterns: Bodice - M7279 (now B6849);
Skirt - Madeleine Vionett's circle skirt, circa 1937 from Betty Kirke's book Madeleine Vionnet (1998).
Fabric: Vintage polyester challis from an estate sale. Cotton batiste for underlining and lining from Fabric .com
---
This vintage-vibe sundress was inspired by Emily Magli and by Susan Khalje, whose Facebook group did a sew-along for her circle skirt sundress pattern last summer. Susan's cotton lawn version is featured on the cover of her book Cotton and Linen, and on the cover of Threads Magazine, Volume 213.

When Emily Magi started to post about her Vionnet skirt, I knew I needed one! I always loved circle skirts, but never liked the way they draped over my abdomen. Vionnet's clever yoke seemed to be a wonderful solution. I'd last had a circle skirt as a teen, and was never satisfied styling tops with it; Susan's sundress concept was another perfect solution. Instead of making a traditional full-circle skirt, I was inspired by another one of Susan's students, Emily Magli, who worked to bring this skirt to life from the pages of Betty Kirke's detailed book. Emily's article about making the skirt can be found in Threads Magazine volume 214. The Vionnet skirt was a bear to draft. I think I recalculated my tissue pattern 3 times, and recut my skirt twice. Maths --- especially geometry --- were never my strongest subjects! Luckily, my friend and I had purchased an entire roll of this fabric at an estate sale a few years ago, so I had fabric to cut the skirt twice. (Yes, this would have been a good place for a muslin, however in this case, the fashion fabric was cheaper than any muslin I could buy!)

For the bodice of the dress, I used the McCall's/Butterick/Vogue sloper, M7279 (now B6849), which I use for teaching my fitting classes, so I had already fit it numerous times. As I tell my students, "Reuse those patterns that you spend time fitting!" I altered M7279 by cutting back the armscyes and shoulder seams to the shoulder dart. I realized that the only place for a closure on the Vionnet skirt was on the side seam, so I moved the zipper to the side, which created another problem: how would I get my head through the jewel neckline? I created extensions on the left shoulder seam, so that there are two buttons on the left shoulder. The zipper extends from the bodice underarm into the skirt side seam. I love this dress! It is fun and pretty --- perfect for a summer full of post-pandemic get-togethers.
---